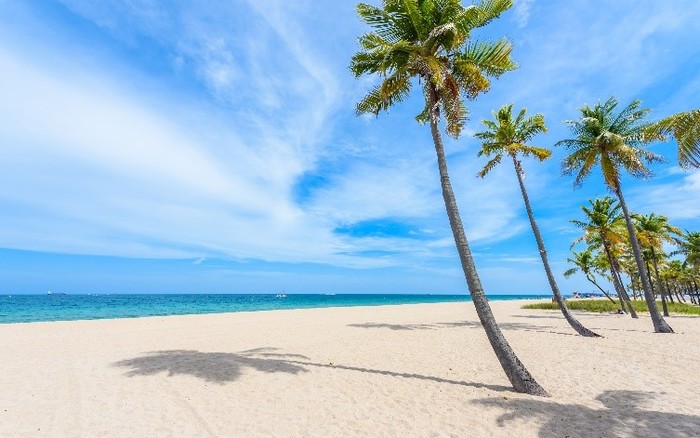 Heading to South Florida for the Fort Lauderdale International Boat Show?
You know what to expect from your cruise by the city… or do you?
While at first glimpse, the city is a bustling waterfront, filled with lux al fresco eateries and million-dollar homes lining the sea, this familiar vista is only half the story.
If you're searching for choice Fort Lauderdale-area angling in a quieter, back-to-nature locale, you need only cruise down to Whiskey Creek and Dr. Von D. Mizell-Eula Johnson State Park, a gorgeous gem of Florida's Atlantic coast. Here, opportunities for angling, cruising and easygoing fun under the sun abound.
Take a look below as we embark on a virtual tour of the sandy escape—before exploring it yourself, that is! Just read on.
A beachy break
Looking for a beachy break after a long day of cruising, fishing, boarding or browsing the boat show floor? We've all been there. Knowing that a casual, laidback atmosphere awaits just minutes away is sure to ease your mind.
Head down to the sandy, scrub-lined shores of Dr. Von D. Mizell-Eula Johnson State Park for the ideal solution. Located in Dania Beach, the park comprises Whiskey Creek—a small, mangrove-lined waterway that runs parallel to the coast—and plenty of beach area to relax, have a picnic, go birding or even take some time for a round of near-shore snorkeling, some of the best the area has to offer. You'll feel immersed in another environment altogether, a sandy expanse where lush tree cover, scrub and rocks dotting the line where water meets the shore create an idyllic backdrop to your daytime getaway—even if you're only sneaking away for a few hours.
From up-close adventures…
Of course, the main attraction here—like so much of the Fort Lauderdale region—is, naturally, the water! Dr. Von D. Mizell-Eula Johnson State Park offers a few ways to explore it.
One of them is the treat of up-close adventures, enjoyed via small vessels you can take along with you, such as canoes or kayaks. Meander along the mangrove shores of Whiskey Creek to see birds, fish and other creatures who call the brackish environment "home," all the while soaking up the serene nature of your surroundings.
… to open-water angling
The name of the game in Florida is offshore fishing—the gem of all gems for area anglers and visitors alike.
Fortunately, your trip to Whiskey Creek offers you an easy way to reach the offshore hotspots you've heard all about. Simply make your way up the Stranahan River, part of the Intracoastal Waterway that runs parallel to Whiskey Creek, then turn out east when you find Lake Mabel. Here, you'll find an inlet out to the oceanic expanse—your ticket to offshore adventures and the chance to land catches such as blue marlin, sailfish, Mahi-Mahi and much more.
Located minutes away from the marine wonderland of Fort Lauderdale, Whiskey Creek and Dr. Von D. Mizell-Eula Johnson State Park offer a quieter—but just as thrilling—take on the South Florida boating and fishing scene. We hope you enjoy exploring it soon!