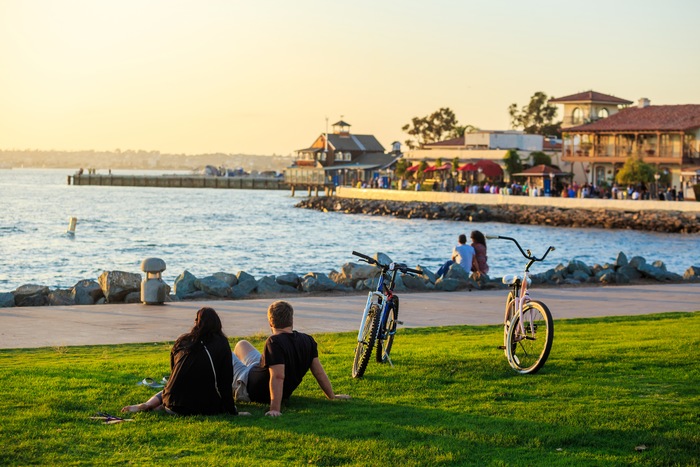 For boaters who aren't quite ready for fall leaves, hot cocoa and winterization, there's a cure—the western escape of San Diego and its endlessly cruise-able shores.
While there is still a fresh crispness in the air for those who crave a gentle fall-time breeze, the city's famous shorelines—characterized, in large part, by palm trees that sway against rolling, hilly vistas—are as lush and inviting as ever.
For boaters, of course, the water is the main attraction—and what water it is!
Read on as we explore the thriving on-the-water culture of San Diego, easy to enjoy from your Robalo this fall.
Angling adventures
If your seasonal angling style is more "offshore" than "ice fishing," you've come to the right place. The tradition of summertime sportfishing continues long after Labor Day here in San Diego. Calmer, shallower nooks of San Diego Bay are perfect for landing bonefish, barred sand bass, bonito, halibut and other much-sought-after finds.
Once you cruise out to the open ocean, the scene is even more abundant with prize species like marlin, Mako shark, yellowfin tuna, dorado (aka mahi-mahi) and many more.
Easygoing cruising
For boaters who crave an eclectic mix of scenery on their adventure, there's a lot to see—you can stick to the familiar San Diego skyline, a waterfront vista lined with parks, trees and plenty of places to pull in and enjoy some downtime (or a family picnic) on land. Nearby islands, such as Coronado with its beach, classic red roofs and old-time trolley rides, provide exciting vistas to explore. Of course, for a good back-to-nature feel, you'll want to cruise up to La Jolla, too, where a rocky, rustic coast welcomes on-the-water sightseers (and as San Diego's "Most-Photographed Beach," you'll find a lot to capture on your travels!).
A choice cruising adventure can also begin in San Diego Bay, a thriving scene where you'll find big boats, little boats, power vessels like your Robalo as well as classic sailboats making their way around the gorgeous landscape. Protected, in part, by Point Loma, there are quieter parts of the water to enjoy, too, making San Diego Bay a great spot to get in some water sports action (of course, it's not the only one…).
For water sport thrill-seekers…
San Diego offers the best of all your favorite on-the-water activities—from easygoing cruising to more amped-up adventures. If you're bringing your board along with you (and you'll definitely want to), wakeboarding and surfing in Mission Bay is a must-do. Thrills are the name of the game here, and you'll be able to board, flip and turn in style against the beautiful, rolling backdrop.
Explore a coastal culture
The on-the-water culture of San Diego is pervasive—down here, it seems like everyone's a boater! And we wouldn't have it any other way. Of course, the city itself (on land, too) thrives in cultural attractions of all sorts. You can visit the USS Midway Museum to learn about the region's naval history, or take a stroll through the Old Town San Diego State Historic Park to get a feel for what the city looked like when its western locale was first catching America's eye…
Get to know the locals
Don't end your trip to San Diego without paying a visit to its beloved locals—the wide range of critters who call the coastline "home!"
The La Jolla Caves are a must-do spot for snorkeling, kayaking and getting up close and personal to the beloved seal population, which is especially abundant once summer crowds have dispersed for the year. And of course, if you stick around through fall and into the beginning of winter, you'll be here to witness the whale-watching scene that kicks off every December.
We hope that today's virtual cruise inspires your seasonal journeys! As a beloved gem where fun abounds on and off the water, there's something special about "America's Finest City," and you're sure to discover it firsthand.