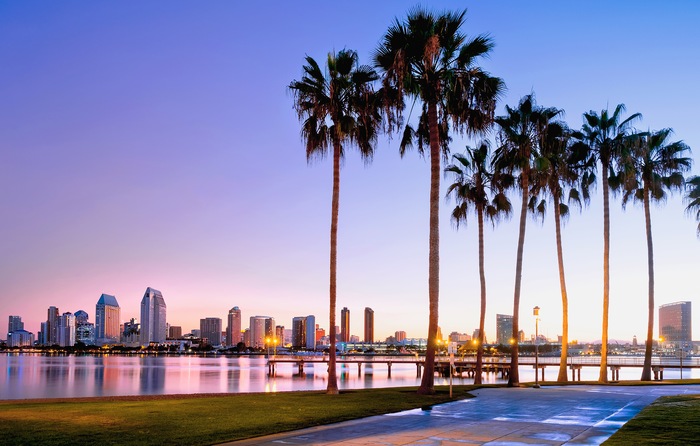 The Pacific Ocean is known for being cool, rich and deep—but you don't need to venture far from shore to experience a true marine marvel.
In San Diego Bay, you'll find a coastal paradise where palm trees, a sparkling city skyline, and thriving action below the surface make for a one-of-a-kind afternoon on board.
Read on to see why San Diego belongs at the top of any angler's winter itinerary.
"The Bay Beautiful"
Sometimes known as the "Plymouth of the West," San Diego is steeped in maritime tradition—but apart from that, it could not be more different than its East Coast counterpart.
First and foremost, the weather's bright, sunny, and warm enough to enjoy lots of time on the water. The bay is characterized by a variety of shorelines to enjoy: palm tree-lined parks, bustling marinas and the famous skyline—venture onshore, and charming destinations like Old Town San Diego await.
As California's southernmost destination, San Diego Bay serves as the center of many on-the-water excursions—head north to explore Coronado or Mission Bay, a popular recreation spot, or keep south to enjoy the famous Imperial Beach or the shallower side of San Diego Bay where alluring catches abound…
What's biting?
So—what kind of catches can you expect? As it turns out, the bay that's famous for water sport fun and impeccable sunsets is just as apt at providing a great fishing experience.
The kinds of catches you'll find depend on where in the Bay you go. Head south, past the Bay Bridge, for one popular find—spotted bay bass—as well as bonefish (the local Cortez variety, to be exact) who thrive in the shallow waters.
Keep north in the Main Channel for expansive room to fish for a real Pacific favorite, halibut.
Getting around
What better way to explore the bay, than with a bay boat of your own? Our Robalo Cayman series offers all you'll need for inshore adventures, as well as excursions a bit farther out. Your Cayman's sleek profile is built to cruise through it all—so when you want to enjoy the shallower spots on California's Southern Coast, you can do it with ease (and so much more). Plus, there's no better-looking way to hit the waters off one of America's favorite coastal gems.
While much of the country is experiencing wintertime woes, San Diego's take on the season is warm, bright, and incomparably refreshing. Hop on your Robalo and experience it for yourself!