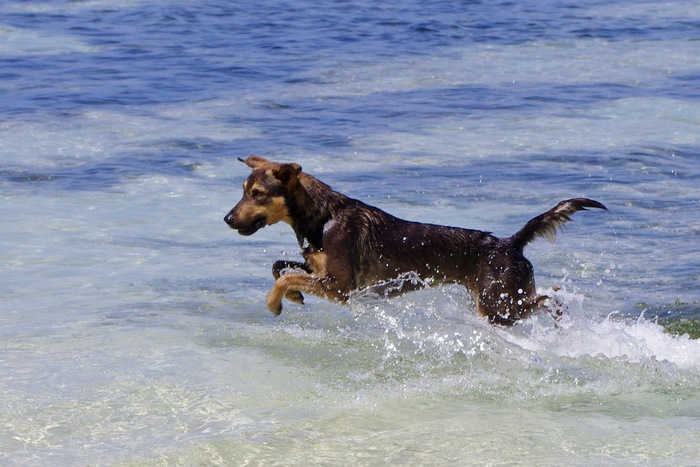 There's nothing better than some quality fishing time—except, of course, fishing with a friend. A four-legged friend, to be specific.
There are endless reasons why dogs make such great fishing companions, not the least of which is many breeds' skills at swimming and landing a paws-free catch. But most importantly, they make fishing more fun—and fortunately, there are plenty of places to hit the water and fish together! Today, we're exploring three such spots. Take a look.
San Diego, California
For SoCal cruisers and their furry friends, San Diego's Dog Beach offers an entirely fresh (and much more liberated) take on the term "dog park." Here, the beach has gone to the dogs in the best way possible. One of the only off-leash beaches in the country, it gives you and your pup the chance to kick back, relax, play some catch and splash around—of course, that's just the beginning.
In addition to boasting one of the best dog beaches in the country, San Diego offers up some seriously fun fishing, too. Without ever venturing far from shore, you can explore the famous San Diego Bay with your pup—she'll help you spot catches like bonefish, spotted bay bass, croaker and many more!
Boca Raton, Florida
For Sunshine State cruisers and out-of-staters alike Boca Raton is known for offshore finds that are sure to make any angler's day—from wahoo to sailfish to colorful catches like mahi-mahi. Fishing here, and up the coast to the glitz and glamour of Palm Beach, is sure to be a leisurely experience with your furry friend by your side. Once you're ready to relax after a rewarding day on the water, be sure to check out a local gem—Bark Beach at Spanish River Park! The aptly named beach spot overlooks the Atlantic and gives dogs and their owners the chance to enjoy some quality time under the sun.
San Juan Islands, Washington
Fishing the San Juan Islands? This Pacific Northwest expanse is perfect for boaters looking to get back to nature, and try their luck at catches like Pacific halibut, pink salmon, greenling, chinook salmon and many more. It is also an idyllic destination for whale watching, especially if you're in the mood to spot some orcas as they make their way around the islands! Your four-legged friend is sure to enjoy the view, too. At Jackson Beach, a classic, rugged escape characterized by driftwood and a dreamy view of the horizon, dogs are free to run around and have some fun. The pair of you can even hop into a canoe or kayak and get closer to the water for a truly one-of-a-kind experience.
With Fido by your side, every fishing trip feels new, fun and more exciting than ever! Enjoy your travels, and be sure to snapshots of you and your pup soaking in the adventure on your Robalo.