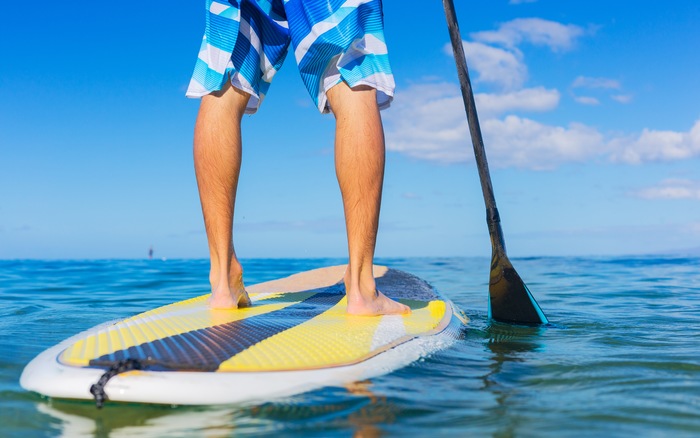 Looking for a fresh way to fish this summer? Nothing pairs better with shallow water adventures quite like the ultimate go-anywhere water toy—your own paddleboard.
Stand-up paddleboard (or SUP) fishing is an exciting new way to explore the water, get some exercise and enjoy a bird's eye view of the action below. Wondering how to get started? Read on for our guide to all things SUP fishing!
Find your ride…
New to the world of stand-up paddleboarding? Finding a ride you love is easier than ever—with so many boards in different shapes, sizes, colors and even specific details for niche adventurers, you're sure to find one you love. Did you know that there are even paddleboards specifically made for anglers, with coolers attached for easy access?
… or rig a new one
If you already have a paddleboard, you're more than halfway there! You can head out as-is, or customize your ride to suit your angling needs. Keep things light, but consider adding a tackle box that doubles as a seat for you to kick back and relax between catches.
Pick the perfect spot
Stand-up paddleboard fishing lets you explore shallow waters and seriously choice fishing! The best destinations are removed from main channel boat traffic, giving you plenty of room to gently paddle, cast your line and seek out the next catch. This might be a favorite lake destination's cove or creek offshoot, or a flats fishing paradise like the Florida Keys! The bottom line? You don't want to work against waves as you paddle, so pick a spot that's removed from the swells and hustle and bustle farther out.
Enjoy the simple life
Part of what makes this type of fishing so special is, of course, its simplicity. There's no need to complicate things! Bring some water to fuel up, slather on the sunscreen, and pack a portable speaker for breezy ocean tunes—or, for a more back-to-nature experience, simply paddle to the rhythm of the water! You can also keep your accessories simple—just be sure to bring along some polarized shades so that you can see into the water with ease.
Jump in
Because you need two hands to fish, you might find it difficult to maintain your position on board and cast your line at the same time—but don't worry, you don't need to! Because you're already in shallow water, this is a great time to jump right in and do some knee-deep fly fishing. Some bigger species do best when they're left in the water, such as tarpon, so you'll want to be wading anyway to ensure the best possible catch.
Bring a friend
Whether you paddle out with a pal, or bring your furry friend along for the ride, stand-up paddleboard fishing only gets better with company! Friends make the adventure more meaningful, and can even help keep an eye out for action on the water you might miss solo.
Ready to hit the water? Bring your Robalo, paddleboard and some fishing friends for a day of splashing fun that can't be beat.