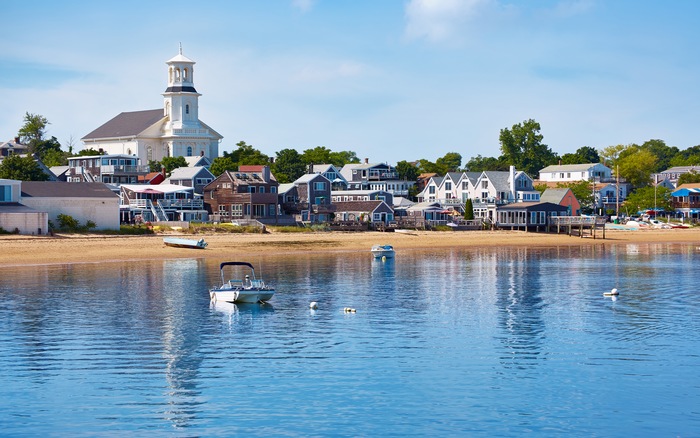 For New England anglers, Cape Cod is synonymous with summertime, choice cruising and some seriously fun sportfishing.
The beloved destination comes alive at this time of year—from its seaside villages to sandy beaches and, of course, all the action on the water. There's a lot to see and do, and we've got you covered with a closer look at some of our favorite highlights to enjoy on your Robalo and back on land, too. Just read on!
On-the-water adventure
With more than 400 miles of shoreline, Cape Cod is home to a variety of ocean vistas and fishing grounds to explore. If you want to hang out in the sand all day, surf fishing (a.k.a. surfcasting) is a great way to land stripers, especially from the rocky shores that line the Vineyard Sound. Be sure to check out the rustic National Seashore, too—while the Cape is known for its charming coastal towns that come alive at summertime, its natural beauty and peaceful stretches of scrubby shoreline are not to be missed!
There are also plenty of piers to check out, where you'll get to soak up some of the Cape's classic fishing culture—but of course, when it comes to landing big-time catches, there's no better place to fish than right on the water. From Chatham, on the Cape's southeastern tip, you can head out to try for catches like summer flounder, scup, black sea bass and, later in the summer, bonito. Offshore of the Cape's northern coast, you can try for some of the region's most famous catches, including big game like bluefin and yellowfin tuna, as well as mako and blue sharks! Tuna is especially abundant in offshore canyons, where trolling and chunking are go-to techniques. For sharks, opt for trolling and drifting for a chance and landing the big one.
After a day of fishing, don't forget to pair your angling adventure with vivid views of the Cape Cod coast! This place was made for leisurely cruising, with shoreline views ranging from small towns to serene, rolling dunes—and, of course, plenty of spots to catch a beautiful sunset over the bay.
Embracing Cape Cod culture
Back on land, there's plenty of local culture to enjoy. Catch a lunch at one of many waterfront spots—as you might expect, lobster rolls and clam chowder reign supreme here, and are sure to satisfy after long days on the water. Stroll through the charming towns of Provincetown, on the Cape's northern tip, Harwich Port, and the island of Nantucket for a closer look at the breezy summertime lifestyle. If you're in town through June, be sure to participate in the Cape Cod Quahog Day! The Cape's own Groundhog Day-esque tradition, the 11th annual Quahog Day will see Doug the Quahog predict summer weather. Last year, he predicted 67 sunny beach days, so come by and see what he has to say for this year's cruising and beaching outlook!
Looking for more information on this beloved boating escape? Be sure to visit Robalo dealer Nauset Marine in Pocasset, where you can learn more about life on the Cape as well as a look at the latest Robalo has to offer.
Whether you're a seasoned "Cape Codder," or simply want to discover the mystique of this Massachusetts gem, we hope that today's guide helps you enjoy your next Cape cruise to the fullest!