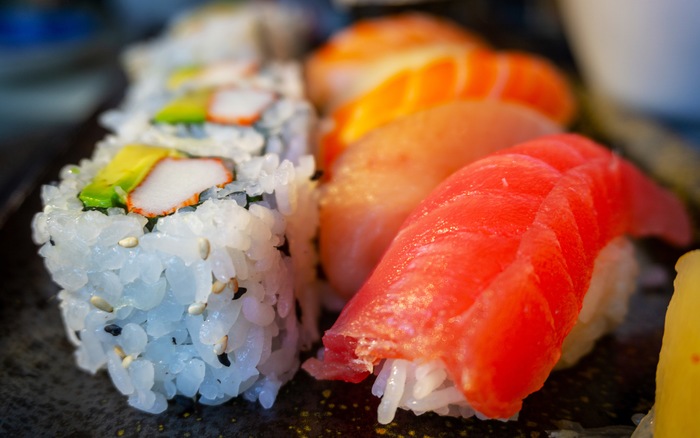 For sushi lovers, fresher-than-fresh fish is a delicacy that can't be beat. But the flavor journey really begins on the water, with colorful catches that are a thrill to fish for—and to look at.
Just read on as we explore the fish and fishing destinations that contribute to sushi's classic flavor!
Bluefin tuna
The largest tuna in the ocean, bluefin is a beloved catch—it can weigh well upwards of 500 pounds, after all, and its sleek body can move through the water at staggering speeds. From a chef's perspective, the bluefin tuna has a buttery flavor that makes it a must-have in sashimi and other raw dishes.
Bluefin can be found through much of the world's oceans, making it a well-known (and much-sought-after) catch among anglers the world over. Popular sportfishing destinations such as the Florida Keys and Cape Cod offer dedicated anglers the chance to try for this legendary catch—but they'll often need to head well offshore to do it. Using live bait or chunking, as well as watching out for seabirds who flock to the surface to snack on bluefin's food of choice, are a few simple tips to try.
Yellowfin tuna
In the sushi and sashimi world, yellowfin tuna is known as ahi—and it, too, commands respect from chefs and foodies for its mild flavor and firm, beefy texture, perfect for enjoying raw in a poke bowl or gently seared as a steak. Shaped like a torpedo with a flash of yellow on its side, the yellowfin tuna is a widespread sportfish, found in many of the world's waters (especially in tropical destinations such as Florida, Southern California and Hawaii, where the name "ahi" comes from). Yellowfin is a great bet for offshore anglers, but it's likely to venture a bit closer inshore during the early parts of summer. Wherever you roam, you can opt for two tried-and-true techniques—trolling, which involves casting your line from a moving boat with lures like skirts and tuna feathers, and chumming, where you drop bait into the water to attract the hungry tuna below.
Salmon
The salmon roll is an especially popular part of the sushi lineup, even though it's not an "authentic" Japanese creation like its sushi counterparts—instead, it was actually introduced by Norway. (Of course, we're not too surprised—both countries share a love of seafood!)
No matter where it came from, the salmon roll owes its popularity to the silky texture and familiar flavor of fresh salmon. When it comes to fishing for salmon, you have lots of options, but there's a reason why the Pacific Northwest is widely regarded as the unofficial salmon capital—there's a lot of salmon to catch here (think coho, chinook, sockeye, etc.), and plenty of beautiful backdrops to boot! One of the most popular methods to land salmon in Washington and the surrounding areas is drift fishing. Practice it in spots such as the Puget Sound, Columbia River, the pristine waters of Lake Chelan and more. There's no limit to the places you can put your skills to the test!
Our tips for digging in
Craving some sushi? Because this seafood staple calls for high-quality ingredients (you've probably heard the term "sushi-grade" in reference to raw fish) and skilled technique, you might want to leave the actual prep to the pros. But who says you can't enjoy fishing for sushi favorites anyway? Try catch-and-release fishing for your favorite offshore species, and then pull up for a dock-and-dine dinner by the water! A few of our favorite spots to pair with a day of cruising and fishing include…
Waterline Newport Beach, a lux SoCal spot where you can enjoy Ahi Tuna Crudo, a House Roll with lobster, and other land and sea treats. Don't forget to spend some time out on the water! Not only is Newport Beach and the surrounding area a great zone for yellowfin fishing, but it offers boaters access to Catalina Island and other beautiful cruising getaways, too.
Ivar's Salmon House, Seattle's Lake Union go-to for ahi tuna, as well as chowder and salmon that's sure to please as you enjoy the vista outside. Pair your meal with some choice Lake Union cruising—here, you can take a break on some stand-up paddleboards, kayaks or your own Robalo as you soak in views of the Seattle skyline.
Robalo gets you closer to the fish (and flavors!) you love most. Whether you're fishing for a favorite catch, or dining dockside to enjoy fresh sushi flavor, we hope you enjoy the ride.