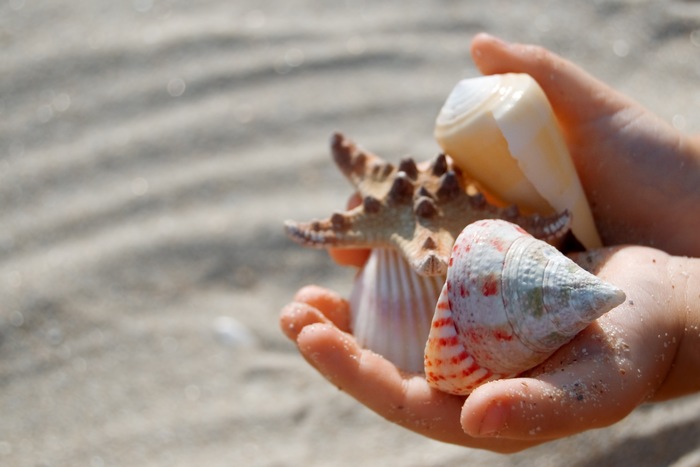 Family. Fun. An end-of-summer scavenger hunt for fish, beautiful boats and treasures buried beneath the sand. Does it get any better?
August is Family Fun Month—a time for families to gather together and indulge in some quality time together before heading back to school and the everyday fall routine (though, with a Robalo, fall is still a pretty thrilling season…).
In pursuit of family time on the water, we've crafted a simple activity the whole crew can enjoy: an on-the-water scavenger hunt! An effortless pastime, the big idea behind a scavenger hunt is seeking out specified list items—either by snapping a photo or, in some cases, retrieving the "treasure" itself to bring back home.
This aquatic adventure kicks off on board—the rest is up to you and, of course, your scavenger skills. Read on as we share a few fun items to include in your scavenger hunt (and be sure to share your own below, too!).
Fishy finds
Being an on-the-water scavenger hunt, it's only natural that we include some fishing on the list! You can list specific fish, depending on your locale, so the hunt looks something like this…
Smallmouth bass
Largemouth bass
Rock bass
Pumpkinseed
Or, for our saltwater anglers…
Mahi-mahi
Red grouper
Florida pompano
You get the idea! You can also include size feats on your hunt—have everyone cast their line and see who lands the biggest catch for some friendly competition.
Water wildlife
What about the wildlife you won't be catching? Include animals on the list and encourage the family to seek out (and snap photos of) these familiar faces on the water…
Manatees
Dolphins
Pelicans
Whales (a real possibility, depending on your locale)
Seals
Boat names
We never get tired of seeing silly, fun, inventive boat names on the water. During your scavenger hunt, offer up extra points to the person who spots the most unique name—or simply see if you can spot one (or more) of these popular boat names…
Pura Vida
Serenity
Seas the Day
Person's name as a boat name (most often female names, as boating tradition goes!)
Island Time
Buried treasure
One of the best parts of visiting the beach is finding treasure just below the sand, or sifting in between the tides. Here are a few items to look out for…
Sand dollars
Beautiful seashells (extra points for conchs, spirals and clam-style shells that are still intact)
Unique coins
Sea glass
Pick a boat—any boat
You're traveling the water by Robalo, but what's everyone else riding? Keep track of the unique boats you spot on your adventure, including…
Kayaks
Novelty rides (swans, old-fashioned models, "car boats," etc.)
Wacky weather
You never know what kind of weather you'll run into on the water. Lightning means it's time to head indoors, but these other weather features are worth sticking around for and snapping a photo…
Rainbows (double points for doubles!)
Sunshowers, the fleeting delight of coastal dwellers
Interesting cloud formations
Sandbar
Everyone loves a good sandbar to explore or raft up at—and those with an especially keen eye can spot a sandbar before the rest of the beach can!
Pets
We love to see furry friends on the water. Include pets on your list (like dogs, of course, and perhaps an elusive cat or two), or add fun scavenger hunt activities for your own furry pals—like "go swimming with Fido" or "teach Spot to surf."
Sea breeze tunes
You know those days when everyone seems to be on the water? One of our favorite aspects of community boating days is the fun atmosphere, and all the great music you can hear along the way. Include an item on your scavenger hunt for quality on-the-water tunes: yacht rock, calypso, you name it!
Photos
Photos are some of the best ways to remember these long, endless days on the water. Include scavenger hunt spots for photo feats such as…
Silliest "tourist-style" photo (glasses, sunscreen-covered nose, straw hat, etc.)
Best action shot
Best landscape
Ready to embark on a family scavenger hunt? Hop onto your Robalo and get started—the environment of your favorite lake, bay or oceans got all you will need to explore and enjoy an invigorating on-the-water excursion.