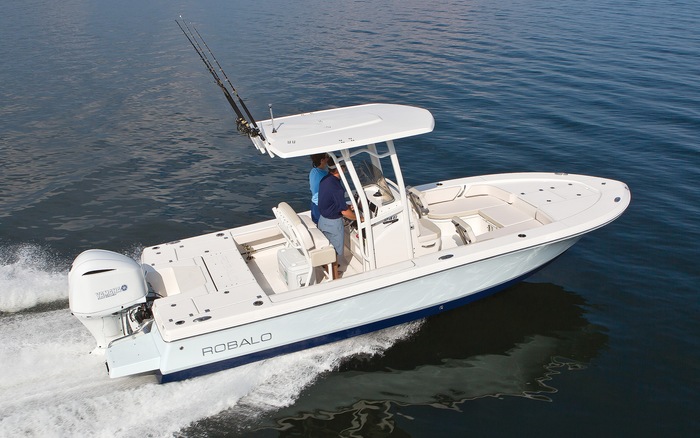 Some of the world's most promising fishing adventures--from the clear blue flats of Islamorada to the shores of Chesapeake Bay--are home to shallow waters that require a special kind of maneuvering (for, of course, a special kind of experience!).
Some boats--like Robalo's Caymans--are specifically built to handle this kind of medium.
In today's blog, see why we love this series, whose perennial charm and utility makes it a natural choice for anglers of every type.
A sleek silhouette
Looking to simplify your time on the water with a sleek, streamlined profile that catches the eye? That's the Robalo Cayman series for you!
Your Cayman will be unmissable as it makes its way through the water--quick, light, and (thanks to the series' impeccable cornering) a dream to navigate. That's where the modern profile comes in handy--not only does it add to the style of your vessel, but it makes maneuvering tight corners and hard-to-reach spaces easier than ever.
Of course, the Caymans' lack of bulky physical features does not mean they come without all the bells and whistles you want out of a fishing boat. In fact, they have a bit more than the norm: a freeboard whose high edges make for dry, comfortable boating; fishing seats; bow and transom entertaining space, and much more.
Space where you want it most
At Robalo, we don't believe that sleek designs have to forego a smart use of space. We know that anglers can always do with extra square footage, and have put careful thought into placing that space where they can use it the most (on the casting platform, for example, and the bow for easy downtime between catches). Plenty of built-in storage means that you can stow away your fishing gear and change of clothes without taking up space on the deck--leaving you that much more room to bring a friend or extra gear for fun on the water. Even Fido can come along for the fun!
Versatility in mind
As bay boats, the Caymans can do quite a lot--especially for anglers who want to get up close and personal to tight, shallow, elusive destinations on the water. They can help you take on the thrills of deeper, open water adventures just as easily--but when it comes time to navigate a shallow space, their sleek silhouette allows for comfortable, controlled movements.
You can only read so much about a great series like the Cayman before, well, wanting to try one out yourself! Locate a dealer near you to see this series (and other great Robalo models) up close, in person, and like never before.