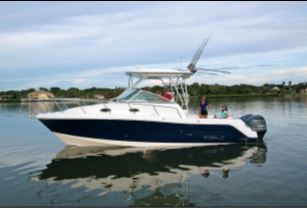 Maybe your family's grown by one or two. Maybe you're looking for a boat that Fido can play on. Maybe you want to improve your angling experience with a boat whose ample deck space makes it easy to navigate and walk around between catches.
What kind of boat should you be looking for? Try a Robalo walkaround—it's in the name!
In today's blog, we're exploring the unique benefits of this timeless series—and how it can make for a worthwhile addition to your on-the-water adventures this summer.
Sheer space
When it comes to choosing a boat you're likely to spend a lot of time on, ample space is the gift that keeps on giving… and giving… and giving!
Having that extra bit of square footage on board (above and below deck) gives you and your family a chance to spread out and relax. Some can fish, some can eat, some can talk, some can relax by the bow and watch it all with ease. For those who like big family outings, or bringing friends along for the ride, you can ensure that that space will not go unused.
Cover from the sun…
Who doesn't love to soak up some sun on their fishing trips? Even so, it's nice to have a break every now and again—and that's exactly what a Robalo walkaround offers. You can camp out below deck, catch up with a nap and simply recharge for the day ahead. You can also relax by the cockpit, which is covered and expertly designed for breezy, comfortable navigation with a clear view of the sights that surround you.
… and plenty of ways to embrace it
Of course, once you're ready for those golden rays again, you'll have plenty of space to enjoy them. You can lay out on the spacious bow or kick back by the transom, while still leaving plenty of room for friends and family to earn their own catches.
Landing the perfect catch
Speaking of landing that perfect catch—what better way to do it than from a walkaround? As the name implies, this series is carefully designed to give you and your crew ample room to move around and reposition yourselves to land the catch you've been working for.
Versatility for future trips
If you're someone who prefers to leave their options (and their vacations) wide open and up for anything, a walkaround might be for you. It gives you unparalleled versatility while still embracing all the things you love about a designated fishing boat.
Interested in learning more about the walkaround, or any of our other great Robalo series? Visit a local dealer today to see the Robalo difference, in person.