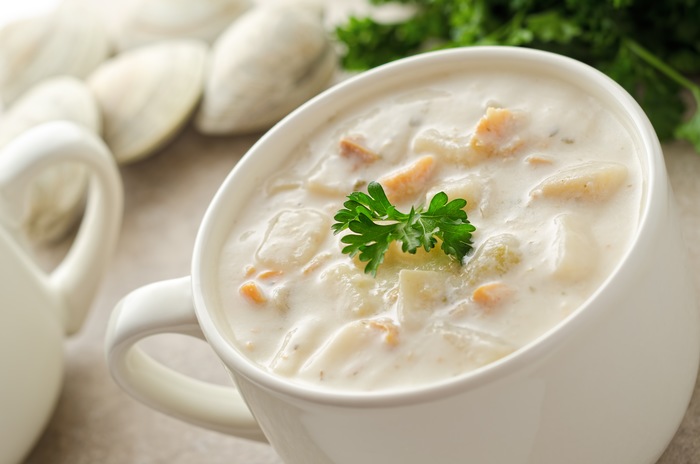 It's a crisp, chilly fall day. After a long day of twisting and pulling for fish—resulting in a none-too-shabby catch bag—you're cold, wet and ready to relax in front of the fire.
As it warms you up and you get back that toasty feeling—a well-deserved treat after braving the elements—you're treated to something that jostles you out of your dreamy stupor: the warm, comforting scent of clam chowder wafting in from the kitchen…
If this sounds like your dream scenario, you're not alone! It brings us back to those days of being a kid, where you could play outside all day and come home to a delicious dinner, lovingly made and ready to enjoy.
But what if it were more than a dream? Clam chowder is a beloved comfort food for a reason: Its warm, velvety texture and familiar flavor combine to form an experience that's best saved for cool, cozy fall days spent by the water… days like these!
As we swing into fall, there's no better dish to enjoy. Today, we'll be taking a virtual tour of some of our favorite by-the-water chowder spots, as well as sharing a few of our best tips for clamming and whipping up your own chowder at home. Take a look!
The Clam Chowder Capital?
Outside of the local region, New England clam chowder is often referred to as Boston clam chowder—so could Boston possibly be the rightful "Clam Chowder Capital?"
We certainly think so! Clam chowder in its purest form (a thick, creamy base with potatoes, onions and clams) can be enjoyed at restaurants and cafes throughout the city. One spot you'll definitely want to visit along the way is the Union Oyster House. Not only does the House serve up a mean clam chowder, but it's the oldest continuously operating restaurant in America—fitting for a city so deeply steeped in colonial history.
Boaters and anglers will particularly enjoy this stop, since it puts them at the heart of a major on the-water hub: from Boston Harbor to the greater Massachusetts Bay and all the beloved spots (such as Cape Cod) that exist just beyond it. In the Harbor alone, a smattering of islands provides ample opportunities to cast your line and come away with a catch—you'll be able to look for bluefish, cod, flounder and many more.
"Clear" things up in Rhode Island
While clam chowder aficionados may have strong opinions, one way or the other, we think it's worth trying a few different chowders on your New England adventure. Why not?
For a "clearer" take on things, head to Rhode Island. You'll want to visit a smaller stop (i.e. not a heavily traveled area) to get a taste of the region's trademark chowder, a unique local flavor set apart by its clear broth and the addition of bacon.
While you're there, be sure to spend some time cruising! The quiet, idyllic shores of Narraganset provide the perfect backdrop to an end-of-summer quest for clam chowder.
About that saying...
Have you heard the old rule of thumb—"only eat shellfish in months that end in 'R'"?
While the saying is rooted in good advice (toxic algae blooms that might affect the safety or quality of your shellfish tend to happen in the warmer months, a.k.a. those without an 'r' at the end of their name), you may not need to follow it as closely these days. Modern commercial standards would prevent the wrong clams from ever landing in your bowl in the first place—so eat up!
Tips for clamming
Whether you're planning to whip up clam chowder at home, or just want to have some fun in the sand, digging for clams is a beloved pastime throughout New England's beaches! The idea is easy: simply find a spot on the sand (wet and close to the water, preferable at low tide) and look for small clusters of holes in the sand—a sure sign that a clam is sitting underneath. Use a clam hoe (yes—there's a tool for that!) and dig to retrieve the clam, and perhaps find even more where that came from.
Enjoying homemade clam chowder
Every clam chowder fan has a recipe they swear by—one passed down through the ages or pulled from a particularly delicious-looking website page. We won't try to change your recipe! Instead, here are a few ways to make any clam chowder even better…
- Toss out any clams that don't open up when you cook them. They're not as fresh as they could be, and you certainly want them to be!
- Play with proportions. If you're more of a seafood fan, the clams and broth can be emphasized— for those who are treading lightly in the world of chowder altogether, play up the creamy base and wholesome, familiar potato flavor for a dish that can't be beat.
- Don't forget about the bread! Warm and flaky bread to go with your meal (or to hold your meal together for a tasty, no-fuss option) is the perfect complement to a creamy, savory chowder.
Hungry yet? Whether you make it at home, or treat yourself after a long day on the water, nothing beats clam chowder on a cool fall day. We hope you enjoy this savory seafood treat to the fullest this fall!