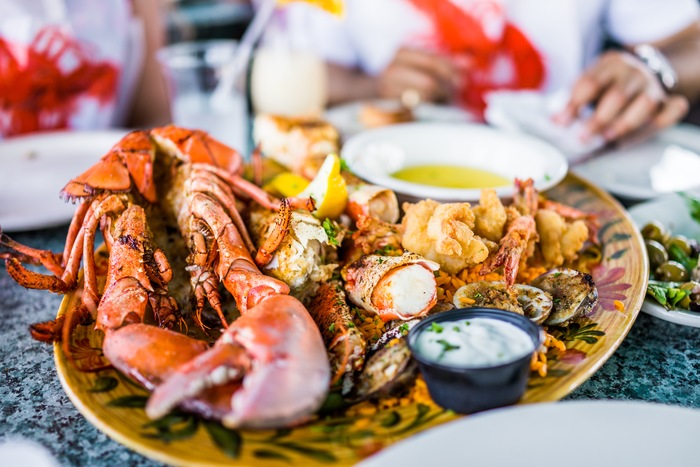 Whether you're fishing, cruising or splashing around, time on the water can certainly work up an appetite—and when you're in South Florida, there's no shortage of ways to satisfy your craving.
Of course, when you're surrounded by some of the world's most famous waterways, you have to try some fresh seafood!
Today, we're taking a look at just a few delicious seafood spots worth checking out during your time in South Florida. Read on, and dig in.
Coconuts
Located on the Fort Lauderdale Intracoastal Waterway, Coconuts is the perfect place to kick back, relax and enjoy the breeze. The waterfront spot operates on a simple, laidback mantra—"be nice"—and it's hard not to do that when the atmosphere is so refreshing.
Dock-and-dine, then dig into seafood favorites like Sesame Seared Tuna, Coconut Shrimp or the Local Fish of the Day, served grilled or blackened for a smoky touch. Or consider adding lobster to a Comfort Bowl of pasta shells and sriracha cheese sauce. Of course, one of the most popular aspects of Coconuts is its Sunday brunch, where you can enjoy sweet favorites like Pancakes and French Toast as well as savory seafood picks, like Lobster Benedict or a Smoked Salmon Club.
The best part? The whole family is welcome here, even furry friends like Fido!
Fifi's on the Beach
Located at North Miami Beach, Fifi's is about as fresh as it gets. The beloved seafood spot prides itself in a unique, hands-on way of catching fish—every day, a former free-diving champ paddles into the ocean to catch grouper and hog snapper, and even lobster when it's in season. You can't go wrong digging into those ultra-fresh entrees, or local favorites like the bright, comforting Seafood Paella. A medley of culinary influences, including Latin and Asian cuisine as well as made-from-scratch homemade fare, combine to make Fifi's a truly one-of-a-kind destination coastal trekkers are sure to love.
Largo Bar & Grill
Located at Miami's lively Bayside Marketplace, Largo Bar & Grill offers visitors the chance to enjoy dinner with a view. Enjoy the sights and sounds of Biscayne Bay as you indulge in favorites such as Yellow Fin Tuna, Largo Mahi Mahi, Seafood Pasta and much more. With its lux-yet-breezy locale and impressive menu, you're sure to enjoy this vibrant spot on game days, pre-show dates, boat trip fuel-ups and everything in between.
The Rusty Pelican
The Rusty Pelican is located just off Virginia Key, where the scenic Rickenbacker Causeway connects mainland Miami with its barrier islands. Not only does this one-of-a-kind locale make for some seriously great sunsets—it also puts you at the heart of Miami's boating scene, where the beauty of Biscayne Bay abounds all around you.
When it comes to dining at The Rusty Pelican, there's a lot to love. An expansive, mouthwatering menu blends the best of modern American seafood, and a local touch, for a uniquely Miami experience. For a fresh, flavorful dish, try the Crispy Whole Local Snapper (dressed up with creamy coconut orzo) or a starter of Seabass and Salmon Buñuelos, fried, doughy balls carried over from Latin cuisine.
Sharkey's Pub & Galley
There's something about a restaurant called "Sharkey's" that just sparks our interest—and our hunger!
This charming local spot is located in Key Largo, one of the northernmost spots on the island chain—so you can enjoy an out-of-the-way Keys experience without needing to cruise too far from mainland. Its casual waterfront locale lends a breezy air to the delicious dining experience, characterized by zesty, seafood spins on traditional fare. Take your tacos up a notch with Chipotle Shrimp, dig into Fish Taquitos, or enjoy a hearty Sharkey's favorite, the Shark Bowl, a medley of rice, roasted veggies and other mix-ins with chicken, roast pork or, of course, blackened Mahi Mahi.
Pro-tip: Many local seafood spots, such as Sharkey's, will happily cook your fresh catch-of-the-day for dinner! If you landed an impressive catch during your day's adventures, we recommend calling ahead and seeing if your chosen restaurant offers this kind of deal. Fresh fish, delicious flavor and the sweet satisfaction of hard work paying off? It doesn't get much better than that.
The best part? With these delicious destinations, you never have to travel far from your Robalo to dig into dinner. Indulge in your favorite flavors—and, of course the sweet sea breeze—for an experience you won't soon forget.