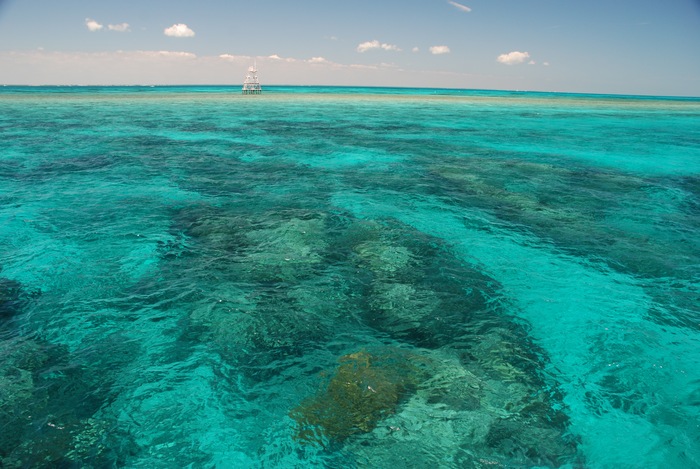 Heading to the Miami International Boat Show? Discover the lively scene on South Beach and beyond–and then immerse yourself in an idyllic island paradise just a quick cruise or car ride south.
John Pennekamp Coral Reef State Park sits among the lush shores of Key Largo. Here, what with the breadth of on-the-water activities to enjoy and beautiful, undisturbed vistas above and below the surface, it's easy to forget that you're so close to mainland. But that's exactly what makes it such an excellent "daycation" destination!
Read on as we embark on a virtual tour of this unique ocean getaway, which just so happens to be the United States' very first underseas park. Take a look.
Getting there
When you're traveling from Miami to Key Largo, getting there truly is half the fun.
Boaters can access the island chain by way of Biscayne Bay. The same waterway that hugs the coast of famous sites such as South Beach or Coconut Grove stretches all the way down toward the northernmost keys—so you can stick close to shore for the journey! Watch as the coast fades from the famous Magic City skyline to dreamy, tranquil shores and stretches of mangrove. By the time you've hit Card Sound, you are in Key Largo territory, and can navigate your way down south to John Pennekamp with ease.
Arriving at the park is easy, as there are boat slips and moorings available! The park simply recommends calling ahead to reserve your spot.
Of course, if you prefer to take the trip by car, you're certainly not missing out on a great view! The aptly named Overseas Highway is unlike any road you've traveled yet. Hop on—maybe put the top down or open the sun roof, if you can—and enjoy the scenic route, surrounded by an endless horizon of pristine blue water, a smattering of mangroves and one-of-a-kind Florida wildlife.
A world to explore
Both above and below the surface, there's a lot to see at John Pennekamp.
Perhaps one of the park's most famous features is its extensive coral reef, a vibrant habitat that plays host to sea turtles, colorful fish, crustaceans and all types of life. Of course, there are man-made finds, too—the Christ of the Abyss statue stands more than eight feet tall, an intriguing fixture of the marine environment unseen by above-surface explorers.
For shallow adventures, you can go snorkeling off your Robalo, or enjoy a snorkeling tour with the park! There are also scuba diving tours when you're ready to explore even more. No matter how you do it, exploring the world beneath the surface is sure to offer you a refreshing shift of perspective the whole crew is sure to love.
Once you've had your fill of sub-surface fun, there are still plenty of ways to enjoy the water! Cruise around on your Robalo and enjoy angling in designated areas—the Keys are known for some seriously stellar game fishing, so you never know what you might find. You can also hop onto a canoe, kayak or paddle board and get even closer to those lush mangrove formations that line the park's coasts.
Back on land…
Finally, when you're thoroughly tired out from a day of fun, it's time to relax! Lounge around in the sand with a handmade picnic and enjoy the sunset. You've earned it. Of course, you can turn your daycation into an overnighter by camping at the park! Under the stars, nestled next to the waves and the ever-balmy backdrop of a Florida winter, you've got ready-made accommodations in paradise.
We hope you've enjoyed our virtual tour of this Key Largo gem!
Of course, words alone can't do it justice. When you're in town for the Miami International Boat Show, a quick ride is all that separates you from the splendor of the statues, coral reef and pristine blue horizons that John Pennekamp is known for—so make the trip for a truly memorable daycation.