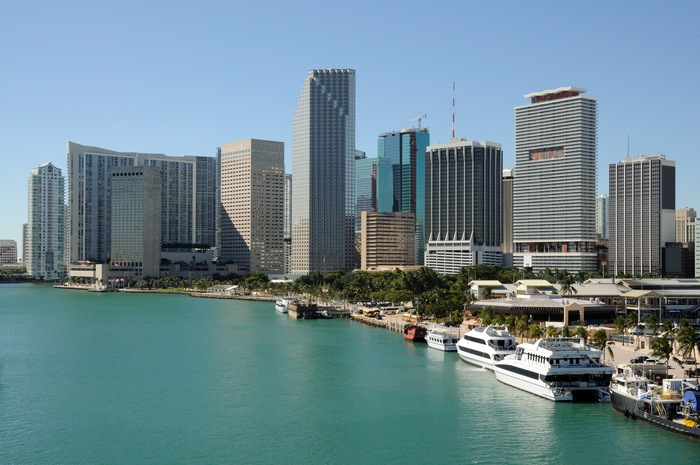 During this frosty winter, there's no better place to be than the warm, balmy, always-vibrant city of Miami.
On and off the water, there's lots to explore… so where do you start? Read on to see five of our top must-dos, including the beloved boat show that's set to return in February.
Food: Cuban sandwich at Versailles
Whether you boat, drive or fly into the city, traveler's hunger is sure to set in fast. Satisfy it the Miami way, by sinking your teeth into the Cuban fare at Versailles, the Calle Ocho restaurant that's a favorite among locals and visitors alike. A Cuban Sandwich is one of the best, most classic options on the menu—and that combination of ham, cheese, and delightfully warm and toasted Cuban bread is sure to satisfy. Also be sure to enjoy a cortadito for a shot of energy. Don't worry about timing… Versailles is open past midnight daily.
Boating hub: Coconut Grove
Now, where to start your trip? For inshore and offshore, angling and leisurely cruises alike, you can't go wrong by kicking off your trip at Coconut Grove. This is a water-loving neighborhood, and it shows—waterfront property and beautiful marina views are abundant. When you're not enjoying the laidback culture on land, you can hop onto your Robalo and cruise out to start your day. Swing past Fisher Island for a close look at one of the country's most opulent private islands while you're at it—there's no better backdrop than the bustling Miami scene for your on-the-water adventure.
Fishing: Biscayne Bay (and beyond)
For some of the best fishing there's to be had in the area, you don't need to venture much further than Biscayne Bay. The shallow flats here provide a welcome change for many anglers, and you can put your Robalo Cayman's sleek profile to use! You'll find that spotted sea trout are a familiar friend here. This time of year, it's never a bad idea to head offshore, too, and look for fish like Mahi-Mahi, sailfish, amberjack and swordfish.
Beach day: Crandon Park
Not much needs to be said about the beautiful, spacious sands of Crandon Park. The beach here offers you a laidback way to enjoy the ocean side of Key Biscayne—and even on Miami's "chillier" days, where temps fall to the sixties, it's still a great place to soak up some sun or enjoy a picnic after a long weekend on the water.
Local fun: Miami International Boat Show
It may only be January—but the folks behind the Miami International Boat Show are already hard at work putting on this much-anticipated event! If you're in town near February, stick around to see what's new in the world of boating—or check out a few hands-on seminars to perfect your on-the-water craft. The show itself kicks off February 15th.
Few cities have an on-the-water culture quite like Miami—its culture, beautiful vistas and delicious food form the icing on top! Enjoy the city the best way you know how, from the comfort of your Robalo, for warm-weather fun all season long.