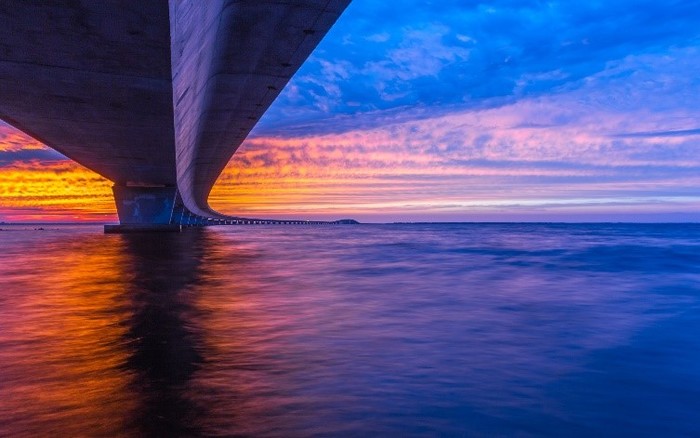 Windows down, car packed with diving gear, you cruise down the bridge that crosses an endless expanse of rich, blue Florida water.
Wait a second, you wonder. I thought the Great Barrier Reef was in Australia?
Your co-pilot tells you you're right. But you're not going to the Great Barrier Reef—you're going to the Great Carrier Reef, the largest artificial reef in the world and a bustling haven for fish, crabs and other underwater critters.
The Great Carrier Reef—otherwise known as the remnants of the USS Oriskany—is as rich in history as it is in the fish who call it "home." Read on as we explore its storied past—the rare tale of a shipwreck gone right—and a few of the best ways to fish nearby Pensacola Bay. Take a look.
Retiring a wartime legend
If you're a buff for military history, the name "Oriskany" probably already sounds familiar. Not only was it the name of a notable Revolutionary War Battle, but it also was the name of a well-known, long-hulled aircraft carrier, the USS Oriskany.
The Oriskany was known for her service in the Pacific Ocean during the Korean and Vietnam Wars, for which she was awarded battle stars of recognition. By all accounts, she was a great ship, so it only made sense that she retire in a meaningful way. Though the ship was initially sold for scrap metal, it was reclaimed by the Navy and, ultimately, converted for another purpose altogether—to serve as an artificial reef off the coast of Pensacola, Florida.
The Navy worked with Florida Fish and Wildlife to plan for the "drop," an innovative way to provide a habitat for sea dwellers while helping to maintain the Oriskany's lasting legacy. In 2006, she was lowered into the water off Florida's northwestern coast, by Pensacola, and from there, the fish moved right in…
The Great Carrier Reef today
Did the program work? While shipwrecks off Florida's coasts have long served as habitats for fish and other marine species (flora and fauna both thrive when they have a protected structure to anchor to and search for food), the Oriskany is different. First, it was an intentional "wreck"—meaning that there was no climactic sea battle or disaster to cause its sinking, and authorities were able to remove components from the boat that might be less-than-helpful for the fish. But what also sets Oriskany apart is the ship's sheer size. At more than 900 feet long, the ship is the world's largest artificial reef, providing ample room for a wide host of species to move in.
The size of the ship, of course, is also good for divers—for whom a large part of the Oriskany's appeal is the wealth of different structures and depths to explore. Head to a local dive shop before your trip, where they can help figure out how low you can go and how to plan for the best possible adventure.
If you do make the dive, what can you expect to find? Just about everything, suggest many divers—there are angelfish, amberjack, snapper and grouper, to name a very few familiar species.
Exploring Pensacola Bay by boat
Has all the action below the surface made for anglers above? It's hard to say for sure, but nearby Pensacola Bay is a top spot to fish, teeming with species (some of them very large) to check off your list.
Here, as well as in the outlets that surround Pensacola Bay, you can find mullet, flounder, and redfish. Inshore fishing is also known to produce some stellar finds, like snook, shark and pompano, and even the inland spots offer plenty to get excited about—Escambia River has 85 species alone, for example, making it the most diverse river in Florida.
Whether you love to dive or prefer seeing fish from above the surface, Pensacola Bay and the greater Gulf of Mexico offer an abundance of attractions to enjoy. Head out on your Robalo and see for yourself!