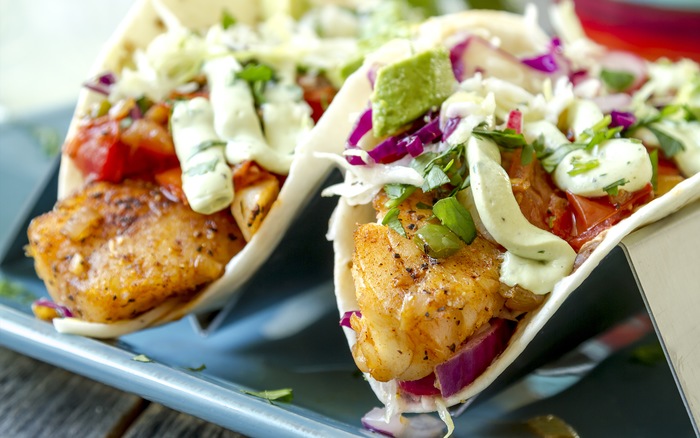 Few foods say "Cinco de Mayo" quite like the effortlessly simple taco. Soft or crunchy, mild or spicy, this dish satisfies the masses (friends, family, partygoers) like nothing else can.
If you're whipping up tacos for your party or family get together this May, why not make them with a seafood flair? That is, turn them into fish tacos!
In keeping with the simple, casual nature of this dish--whose easy nature never diminishes its rich, fresh flavor--we've put together five steps for crafting your perfect fish tacos. Take a look below!
For 4 delicious servings, you will need...
- 1 pound white meat strips of your choice (grouper, mahi mahi, etc.)
- 1/4 cup sour cream
- 2 tablespoons lime juice
- 2 1/2 shredded red or green cabbage
- 1 jalapeno pepper
- 4 green onions
- 2 tablespoons olive oil
- 1/2 cup chopped cilantro
- 8 6-inch tortillas OR taco shells
- Salt and pepper to taste
1. Combine sour cream, lime juice, salt, and pepper in a mixing bowl. Put half of this mixture aside to serve as a topping later.
2. Mince one half of the jalapeno pepper and combine it with cabbage, green onions, and your sour cream-lime juice mixture.
3. Add the leftover half of the jalapeno pepper to a pan with olive oil and your fish strips. Add salt and pepper and pan fry on medium heat, then cook until slightly browned (the meat should be white, not translucent, and should easily "flake" when prodded with a fork).
4. Heat your tortillas! You can heat them in the microwave for 30 seconds, or wrap several tortillas in aluminum foil and heat them in the oven, at 350 degrees, for 15 minutes. For taco shells, you can do the same--just lay them out separately on the baking sheet instead of stacking them.
5. You're ready to go! Now is the time to add your fish to the shells, then top with your slaw, leftover sour cream mix, and fresh cilantro to taste. If you're serving a large group, a great tip is to use a large taco serving tray that will keep all your tacos upright. There will often be a center section perfect for keeping cheese, slaw, or sour cream. This way, friends and family can custom craft their own delicious dishes.
We hope that this recipe serves you and your loved ones well! Whether you need a Cinco de Mayo treat or a satisfying summer go-to, these fish tacos are sure to please.