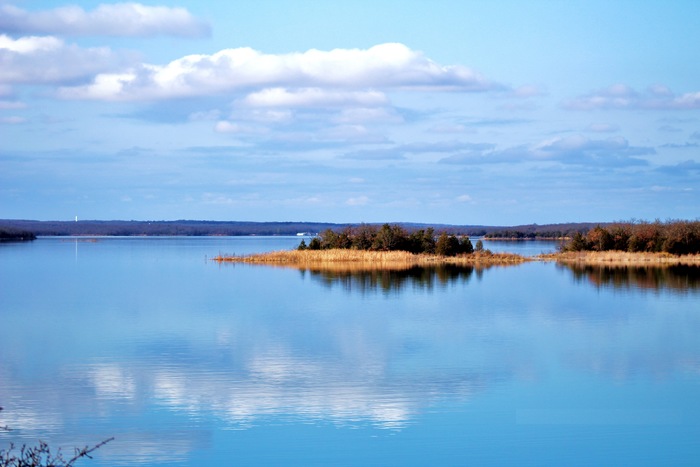 When it comes to cruising, angling and enjoying the great outdoors, look to the pan-shaped state at the heart of America's Great Plains—Oklahoma's got it all.
Of all the outdoor opportunities Oklahoma has to offer, though, one of our favorites has to be its abundance of amazing lakes. From sparkling, spring-fed escapes to cozy cabin digs, there is a wide variety of beautiful places to soak in the view—and, of course, sink a line. Just read on as we explore a few of our favorite spots to take your Robalo this spring!
Lake Murray
To those not in-the-know, the Great Plains might seem like the last place you'd find crystalline Caribbean allure—but think again! Lake Murray's turquoise water creates an idyllic escape, perfect for boaters who crave a good catch as much as they want that perfect backdrop. The lake's spring-fed waters aren't just eye-catching, of course. They are filled with smallmouth, largemouth and spotted bass, and also create a great environment for sight fishing and snorkeling since the water is so clear.
When it's time to dry off, time on land is just as enjoyable. The famous Tucker Tower, standing tall in stony glory, is the perfect place for a photogs and nature buffs alike—meanwhile, nearby excursions like golf or horseback riding really round out the adventure.
Lake Eufaula
Lake Eufaula may be the state's largest lake, but don't let that intimidate you! It is known as the "Gentle Giant" because it is a welcoming destination for every kind of outdoor adventurer. Anglers love the lake because it's a picturesque place to catch largemouth, smallmouth, crappie, stripers and more—check out the local tournaments to get a sense of just how fun fishing here can be! You can even try your hand at water sports fun while you're on the lake. There's plenty of room for boaters to explore every kind of activity, including simple easygoing relaxation—raft up and pack some floats to wind down at The Cut, a popular local hangout where you can cap off a great day of fishing.
Lake Texoma
As its name might suggest, Lake Texoma straddles the border between Texas and Oklahoma—and it's a popular destination for boaters from both states, for good reason! Pristine blue water and lush shorelines characterize the landscape, and there are plenty of species to fish for. Blue catfish, striped and smallmouth bass are especially abundant in this charming Southern gem.
Broken Bow Lake
Consider Broken Bow your quintessential cabin getaway. The wooded expanse on land gives way to wide-open opportunities on the water, including, of course, fishing for walleye, channel and flathead catfish and a bevy of bass. The fishing fun never gets old thanks to the variety of landscapes that abound here—you can head to the open water, stick close to the shore or meander around the lake's many small island formations for a varied experience that changes with every trip.
Grand Lake o' the Cherokees
Grand Lake o' the Cherokees, a.k.a. Grand Lake, offers an up-close look at the Ozarks. The region's verdant, rolling landscapes surround Grand Lake and provide a dreamy back-to-nature backdrop for anglers. Try for catches such as striper, catfish and crappies—but don't leave before checking out the casinos, nature centers and other attractions that surround the lake! Grand Lake is a must-do stop on Route 66 and provides plenty of recreational opportunities for every kind of traveler.
We hope that today's virtual tour helps you discover the charming, hidden gem that is Oklahoma's fishing scene. Hop on your Robalo and soak in those Sooner State views, well, soon!