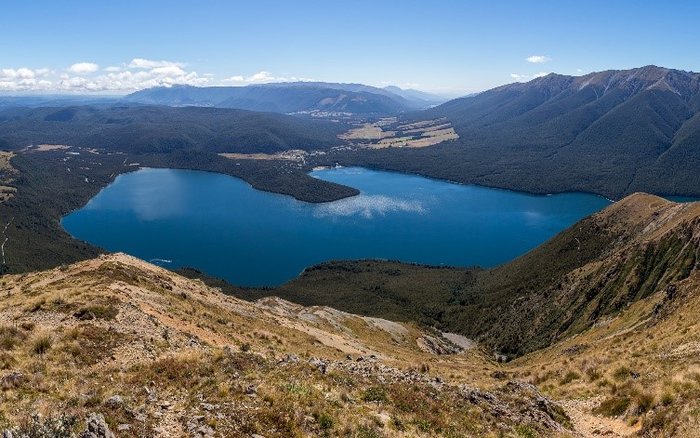 New Zealand's green Southern Alps and a seemingly endless blue sky are just the beginning when it comes to the beauty of Nelson Lakes National Park.
At the heart of the park lies its main attraction, the Blue Lake, a dreamlike body of water that lives up to its name—not only does it have a famous rich natural hue, but it's home to the clearest water in the world!
In today's blog, we're exploring the depths of the pristine Blue Lake.
Natural distillation
Before we discuss the unbelievable clarity of Blue Lake, let's look at the factors that make it so impressively clear. Neighboring body of water, Lake Constance, is much bigger but less clear—that is because it feed into Blue Lake via an underwater passage, a passage that filters out debris and even small particles along the way. Thanks to this unique passage, Blue Lake is able to remain the pristine, seemingly untouched spot it's been for all these years.
The ins and outs of true clarity
How clear can clear get? At Blue Lake, the visibility of the water can, at times, reach the visibility of distilled water—a visibility at which you can see up to 260 feet below the surface! That means being able to see algae and aquatic life below with surprising ease. While the purity of the lake allows its true blue, violet color to show through, that color can appear to lean more teal at times thanks to the colors of life on the lake's floor.
A sacred spot
To the local Māori people, Blue Lake is known by its given name Rotomairewhenua, meaning "the lake of peaceful lands." Just like the name "Blue Lake," it's fitting to call this lake a new level of peaceful. It's a sacred land, the spot where the Māori held traditional cleansing ceremonies and made use of the lake's natural pure, clear waters.
When it comes to clarity, you'd be hard-pressed to find a more impressive lake than good-ole Blue! If you ever make the trek to New Zealand, we're sure it will be a sight worth seeing.