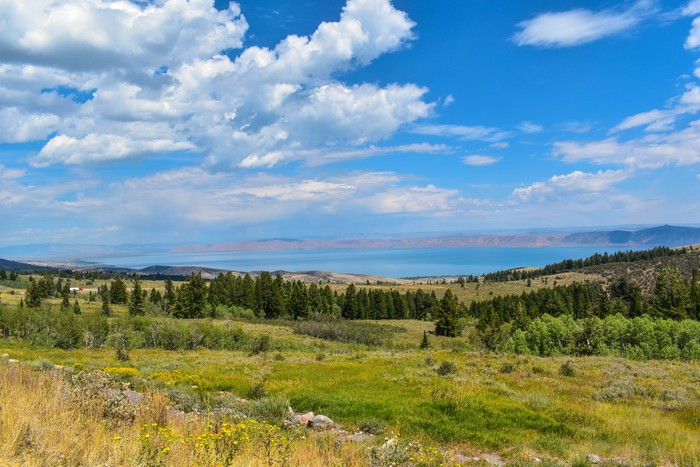 You don't need a passport to experience the allure of the Caribbean. Stateside, there's a power-blue aquatic paradise waiting to be explored… and it's at the heart of the Rocky Mountains!
Bear Lake sits on the border between Utah and Idaho, where natural happenstance has helped to create a vibrant oasis where you'd never expect it.
Take a look at today's blog to see what makes this lake so special… and what you might find biting below the surface!
Behind that true-blue water
While the American west is known for its impeccably blue, pristine lakes, streams and reservoirs, Bear Lake stands out even from that gold standard. Its blue is unlike many of its Rocky Mountain counterparts, so bright and near-turquoise that it earned itself the nickname "the Caribbean of the Rockies."
There's a good reason for that beautiful shade! It has to do with the lake's composition. Calcium carbonate particles from the region's limestone can't be seen by the naked eye, but their white color is able to reflect the inherent blue of the water upward. The result is an ultra-blue, tropical shade that pleases the eye!
A place for reflection
If you're a photographer, or simply want some time to reflect, you can't pick a better place than Bear Lake. Enjoy reflective views of the sun, sky and surrounding mountain range all in the image of the lake's surface.
What's biting?
Wondering what kind of fish are around at this time of year? Keep an eye out for trout (lake and cutthroat), whitefish, sculpin, and more who are still readily available throughout the lake. Of course, as the weather cools down, you might see a shift in the kind of fishing that's available. While much of the space is open all year-round, the lake actually becomes a popular ice fishing spot during cold-enough winters… so there's something to look forward to if you've been meaning to try this cooler-weather sport!
The treasured Caribbean of the Rockies surely lives up to its name! Come see for yourself the natural beauty and serenity that abounds here—it's a must-do for anglers everywhere.