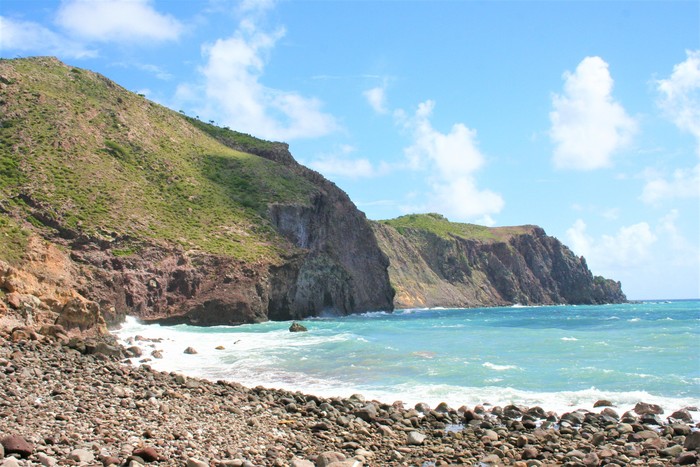 Looking for the perfect place to spend St. Patrick's Day—and maybe carve in some time on the water? Look no further than the Emerald Isle of the Caribbean.
Montserrat didn't just earn its nickname for a bevy of lush, rolling hills and coastal bluffs reminiscent of those great Irish cliffs—the island is actually steeped in Irish culture, too, and is the only country besides Ireland to celebrate St. Patrick's Day as a national holiday.
Interested in learning more about Montserrat's Irish culture, idyllic beauty and one-of-a-kind angling scene? Just read on as we explore!
Ireland meets island time
The British territory of Montserrat was largely populated by the Irish, all the way back in 1632, and more continued to come and leave their mark on the island in the years that followed. The result? A slice of the Emerald Isle in the warm, sunny splendor of the Caribbean. There are touches of Irish culture all around the small, spirited island—from its passport stamp, which is a shamrock, to lively St. Patrick's Day celebrations that blend Irish and Caribbean influences, to the regional dish, goat water, a recipe based on Irish stew that subs in goat for beef for a spicy, flavorful meal.
The mystique of Montserrat
What makes Montserrat so special? In addition to its Irish heritage, the island is similar to its European ancestor in another way—it, too, boasts beautiful, green landscapes and striking natural features. Shaped by a volcanic geographic history, Montserrat's coastal cliffs and stretches of rocky shoreline jut into the bright Caribbean water. There are black sand beaches, lush tree-covered overlooks, and, of course, plenty of gorgeous water to explore. As you look around the island, one of the things you won't find is too many people—but that's all part of the mystique of Montserrat. Removed from the hustle and bustle of its fellow Caribbean islands, Montserrat offers a tranquil, back-to-nature experience that's perfect for boaters who want to explore a lively local culture and serene backdrop. When you explore here, every turn both on and off the water feels like discovering a brand-new slice of paradise.
Angling off the beaten path
Of course, one of the main attractions for anglers is the sparkling Caribbean water that surrounds Montserrat. As an island with 25 miles of shoreline, you can easily wrap your way around the landscape as you troll and try for photo-worthy catches.
Here, you will want to search for the classic Caribbean catches. These include deep-sea favorites, such as barracuda, king mackerel, marlin, mahi-mahi, wahoo and yellowfin tuna—each providing a thrilling fight on the water and a colorful catch to commemorate in photo keepsakes. Closer to the shores of Montserrat and its Caribbean neighbors (such as Saint Kitts & Nevis), there's just as much to enjoy, from grouper to snapper and many more—the surface may seem calm, but there's a world of action going on below. If you're in town for St. Patrick's Day fun, toss on a green hat and maybe a shamrock or two—we could all use some extra luck on the water, after all!
And as the turquoise inshore waters give way to the rich blue hue of the ocean, you'll be amazed at the splendor of this one-of-a-kind slice of paradise—and the fact that, somehow, it's still one of the Caribbean's best-kept secrets.
Whether you visit for St. Patrick's Day or mark Montserrat on your list of must-do destinations, we hope you've enjoyed today's virtual tour! Stay tuned as we continue to explore some of our dream angling adventures, both around the States and worldwide, too.