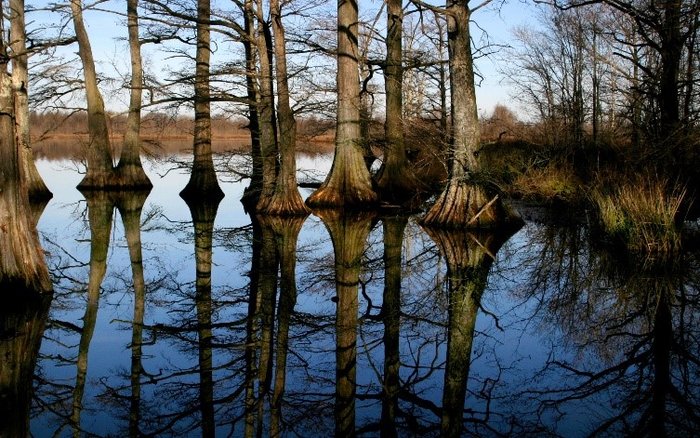 In 1812, a Missouri earthquake shook things up across the region—and led to the creation of Tennessee's first (and only) large natural lake.
Today, Reelfoot Lake is a popular spot amongst boaters and anglers alike. But what factors led to it becoming the unique space it is today? Take a look at today's blog to find out!
The New Madrid Earthquakes
The winter of 1811 through 1812 saw three major earthquakes rock the South, with epicenters in Arkansas and the "Bootheel" region of Missouri. The third, final and strongest of the quakes was forceful enough to be felt all the way on the East Coast. It destroyed the city of New Madrid and severely impacted cities such as St. Louis, where homes lost their chimneys and structures saw major damage.
While the earthquake left destruction in its wake, it led to something new, too—the Reelfoot Lake. The lake was created when the quake pushed waves upstream on the Mississippi River and simultaneously helped sink down the land that eventually became the lake.
Reelfoot Lake today
Today, Reelfoot Lake is a prime destination for Tennessee anglers and visitors from across country, especially since it's one of the best regional spots for crappie and bluegill. It's also a popular destination for birders, who come out as early as January and February for eagle tours and to see the natural wonder of the region. There's even a Reelfoot Eagle Festival in February!
It's enjoyable to simply spend time in this one-of-a-kind lake, especially since its unique creation has led to equally unique sights to see. For example, the lake sits atop what used to be a forest (in fact, it's sometimes called a flood forest!). You can see cypress trees peek out from under the water, but some stumps remain hidden or can be viewed just below the surface. It makes for an interesting experience, and the shallow water is favored among local anglers. It's also a unique spot for smaller watercraft, like kayaks and canoes, thanks to the winding maze created in some parts by the labyrinth of submerged trees.
Have you ever taken your Robalo to Reelfoot? If not, 2017 could be the year you do!