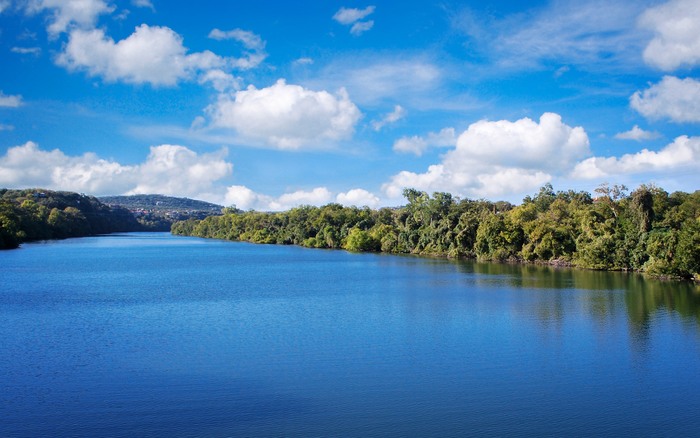 Bat City. Hippie Haven. Live Music Capital of the World. Austin goes by many names—might we add "Angler's Escape" to that list, too?
While the quirky Central Texas city is filled with on-land entertainment and activities to enjoy, it's home to on-the-water excursions that are equally worth taking, especially if you're looking to land a catch or two.
Read on to learn more—or to plan your spring break getaway.
A tale of two lakes
Two great lakes define the angling experience here in Austin: Lake Austin and Lake Travis. Each comes with an aquatic character all its own—though they do have one thing in common, a wealth of fish and stunning views to soak in.
At Lake Austin, those views include sloping shorelines, characterized by lush green vegetation where homes are cozily nestled in—the angler's dream idea of waterfront real estate. While it may be the smaller of the two lakes, Lake Austin certainly packs a punch in terms of aquatic fun. It's a convenient stop along the long, winding Colorado River—so it can be the welcome start (or well-deserved finish) to your day of cruising. As far as fish go, Lake Austin is primarily known for its largemouth bass—which can be found in great numbers—as well as catfish and sunfish, too. For the former, stick to the weed beds along the lake's perimeter, and try to go fishing during the early or late parts of the day—even nighttime—since the water won't be so busy, and you'd be more likely to land a catch.
As you head over to Lake Travis (a must-do complement to Lake Austin), your angling adventure continues. This is a beloved lake for Texas locals and visitors alike—good thing in spans a near 20,000 square acres of surface area!
What can you expect to find in Lake Travis, just northwest of Downtown Austin? Think nature at its very best. Bright turquoise waters are cool and inviting, and—paired with rich green and always-curving shorelines—seem like something straight out of the Caribbean. If you're not enjoying the view from a waterfront hot spot like The Oasis, a beloved place to grab a bite, you're on the water yourself, fishing for catches like largemouth and Guadalupe bass, catfish and white bass. At this time of year, you can find the latter on its annual spawning run, meandering into the creeks that shoot off from the main lake—just bring some small spinners, crankbaits and jigs and you'll be good to go.
Of course, if you come a little closer to the summertime, you'll find an all new way to enjoy the water. Come June, Lake Travis turns into an aquatic movie theater, screening Jaws for an audience floating and enjoying the cool water on warm summer nights. Swap movie theater seats for your favorite inner tube and take part in the fun!
Exploring Austin
When it's time to dry off, you'll find ample ways to enjoy Austin by land. Start by checking out the famous bats that give the city its nickname—1.5 million of them hang out (literally) under the Ann W. Richards Congress Avenue Bridge, and audiences flock to see them fly out for their nighttime excursions. It's a truly bizarre spectacle—but then, no one said Austin was ordinary! And it's worth seeing while you're in town for the warmer months.
On hot days when you're not out fishing, the family can plunge into an easygoing afternoon of swimming at the Barton Springs Pool, fed from a spring below and kept, naturally, at a nice, comfy 70 degrees.
And of course, you can't forget about Austin's cultural scene. Whether you're here for the food (barbecue and Tex-Mex are both area staples, done well) or the bevy of local performances that make Austin the "Live Music Capital of the World," spending a couple of nights in town is a great way to add some flair to your fishing vacation.
Need a recommendation? Just stop by South Austin Marine to get the scoop on local must-dos and, of course, all things fishing and Robalo. We hope to see you soon!